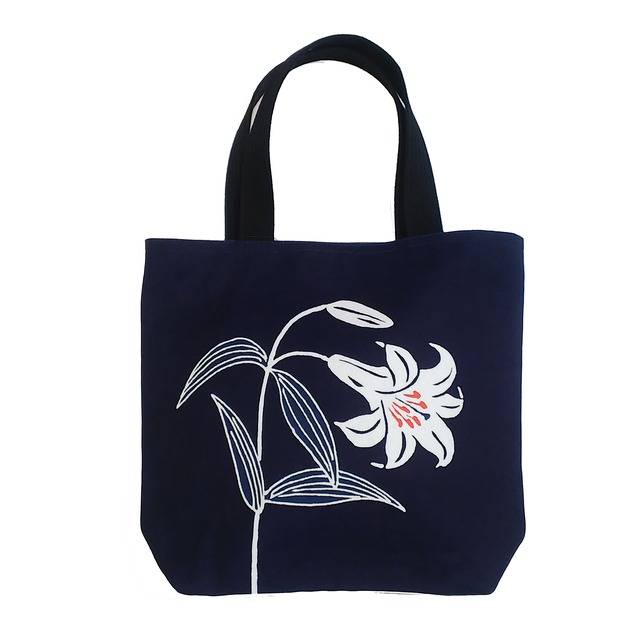 帆布小バッグ 百合
SOLD OUT
可愛い百合の帆布バッグです。
A4の書類が横に丁度収まるサイズで、とても使い勝手が良いです。

天然藍で濃紺に染め上げた帆布バッグ。白生地に餅糊を置いて図柄を描き、大豆の絞り汁(呉汁)に顔料を混ぜて彩色する。その後、発酵させた天然藍に何度も漬け込み、清流で水洗いし、天日干しする、昔ながらの染め方で製作

【サイズ】約34cm×30cm×マチ9cm
【素材】 本体:綿100% 持ち手:アクリル
Add to Like via app
正藍染製品(バッグ類)のお取り扱い注意点について
※藍染は染料の特性上擦れ合うと他のものに色移りする場合があります。これは藍色が糸や生地の内部に浸透して染まっているのではなく表面を覆っている状態だからです。そのために頻繁に摩擦する部分や、湿気を帯びたり、水濡れしている部分を摩擦しますと色落ちいたしますのでご注意ください。
※革製品などに摩擦で色移りすると、付着した色を落とせませんのでご注意ください。特に淡色の革製品との摩擦はお避けください。
※ご着用に際しては下着・衣類などへの色移りにはご注意ください。何度かご利用いただくうちに徐々に色落ちしにくくなります。
※型崩れの原因になりますので、洗濯しないで下さい。
※長時間同じ位置に直射日光が当たったり、長期間同じ位置に蛍光灯の光が当たると、その部分が日焼けすることがございますのでご注意ください。長期間ご使用にならない場合は箪笥や箱等の湿気の無い暗所に保管し、時々かぜを通してください。
Canvas bag "Lily"
This is a canvas bag with a lily pattern.
The size of the A4 document fits horizontally, and it is very easy to use.Dipped in fermented natural indigo many times. Produced in the traditional way of dyeing.

[Size] Approx. 34 cm x 30 cm x gusset 9 cm
[Material] Body: 100% cotton Handle: Acrylic
[Precautions for handling indigo dyed products]
* Indigo dye will transfer color by rubbing. As you continue to use it, the color will not fade easily. Also, the color fades little by little as you use it.
* Please note that the attached color cannot be removed if the color of leather is transferred due to friction. In particular, do not rub brightly colored leather products.
* Please do not wash. It may cause loss of shape.
* Be careful not to transfer the color of your underwear or clothing when you wear it. It will become less likely to lose color over time.
* Please store in a dark place with low humidity such as chest of drawers and boxes. Please note that you may get sunburn if you get direct sunlight or fluorescent light for a long time.
Shipping method / fee

Payment method
¥15,400 tax included
SOLD OUT