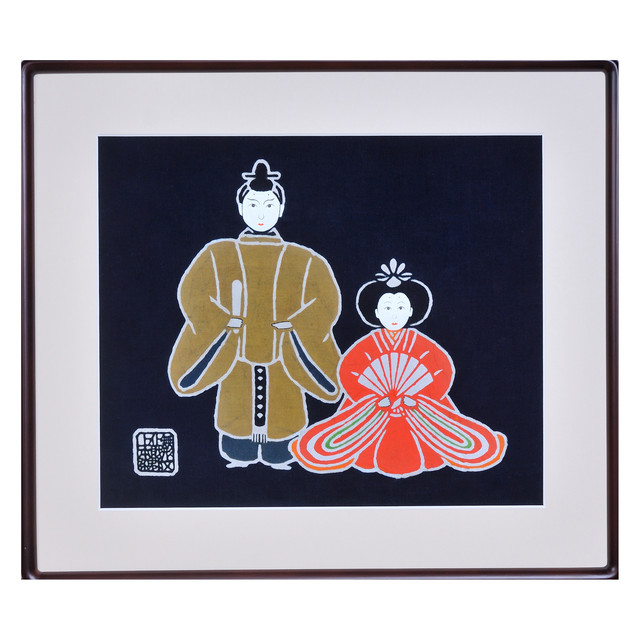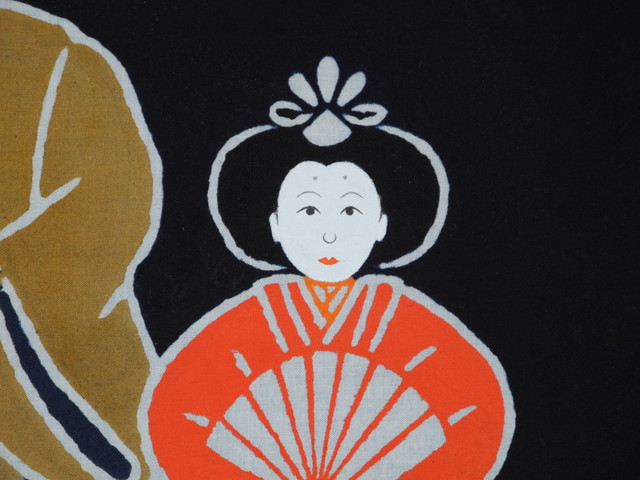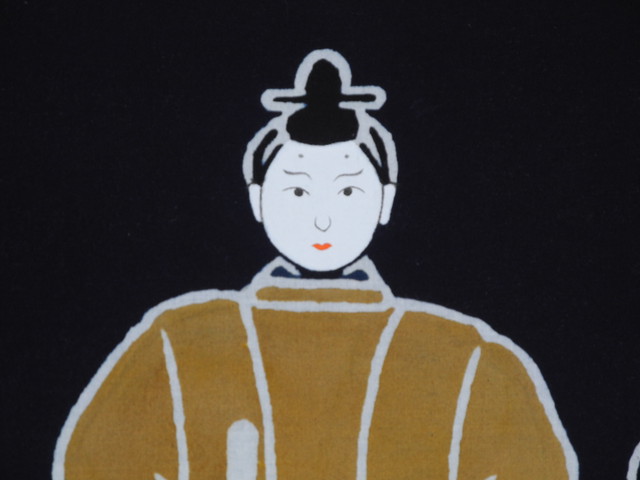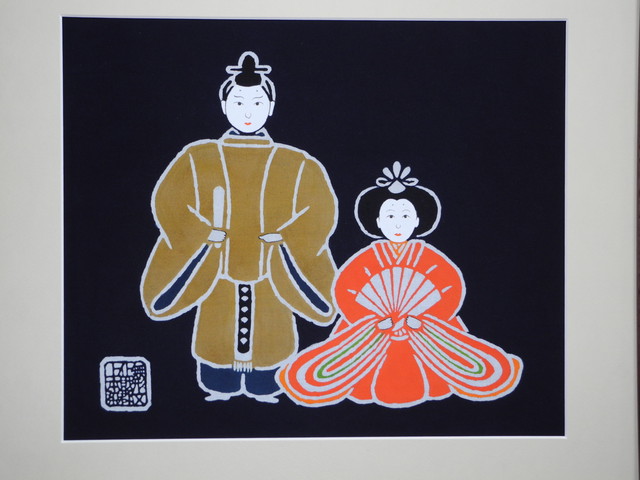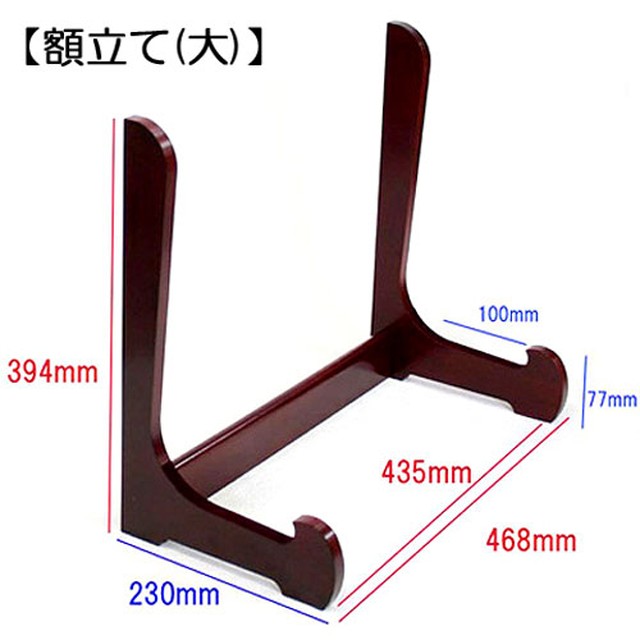 額絵 立雛
*This item will be delivered on 4/20(Tue) at the earliest.
Shipping fee is not included. More information.
桃の節句に飾るのに人気な額絵。
可愛いお雛様とキリットしたお内裏様の表情です。
白生地に手描きで餅糊を置いて図柄を描き、大豆の絞り汁(呉汁)に顔料を混ぜて彩色する。その後、発酵させた天然藍に何度も漬け込み、清流で水洗いし、天日干しする、昔ながらの染め方で製作。

【サイズ】横65cm×縦57cm
【素材】 額縁:木、アクリル板 生地:木綿
Add to Like via app
額絵の取扱い注意点
※額縁は木製で、全面はアクリル板です。ぶつけたり、掃除でアクリル板を擦ると、傷つきやすいので、ご注意ください。
※壁などに設置する場合、事前に壁の強度を確認た上で設置してください。また、付属の紐も経年劣化しますので、時々ご確認ください。
※落下による、破損や、お怪我をされた場合は、責任を負いかねます。
※湿気の多い場所などは、カビの原因になりますので、お避け下さい。
Picture of traditional Japanese dolls
A painting that is popular for girls' day decoration in Japanese traditional culture.
The dough inside was soaked in fermented natural indigo many times. Produced using traditional dyeing methods.

[Size] Horizontal 65 cm x Vertical 57 cm
[Material] Frame: wood, acrylic board Fabric: cotton
Precautions for handling picture frames
* The frame is made of wood and the entire surface is made of acrylic. Be careful not to hit it or rub the acrylic plate for cleaning, as it will be easily scratched.
* When installing on a wall, check the strength of the wall in advance. Also, the attached string will deteriorate over time, so check it occasionally.
* We are not responsible for any damage or injury caused by dropping.
* Avoid damp places as it may cause mold.
Shipping method / fee

Payment method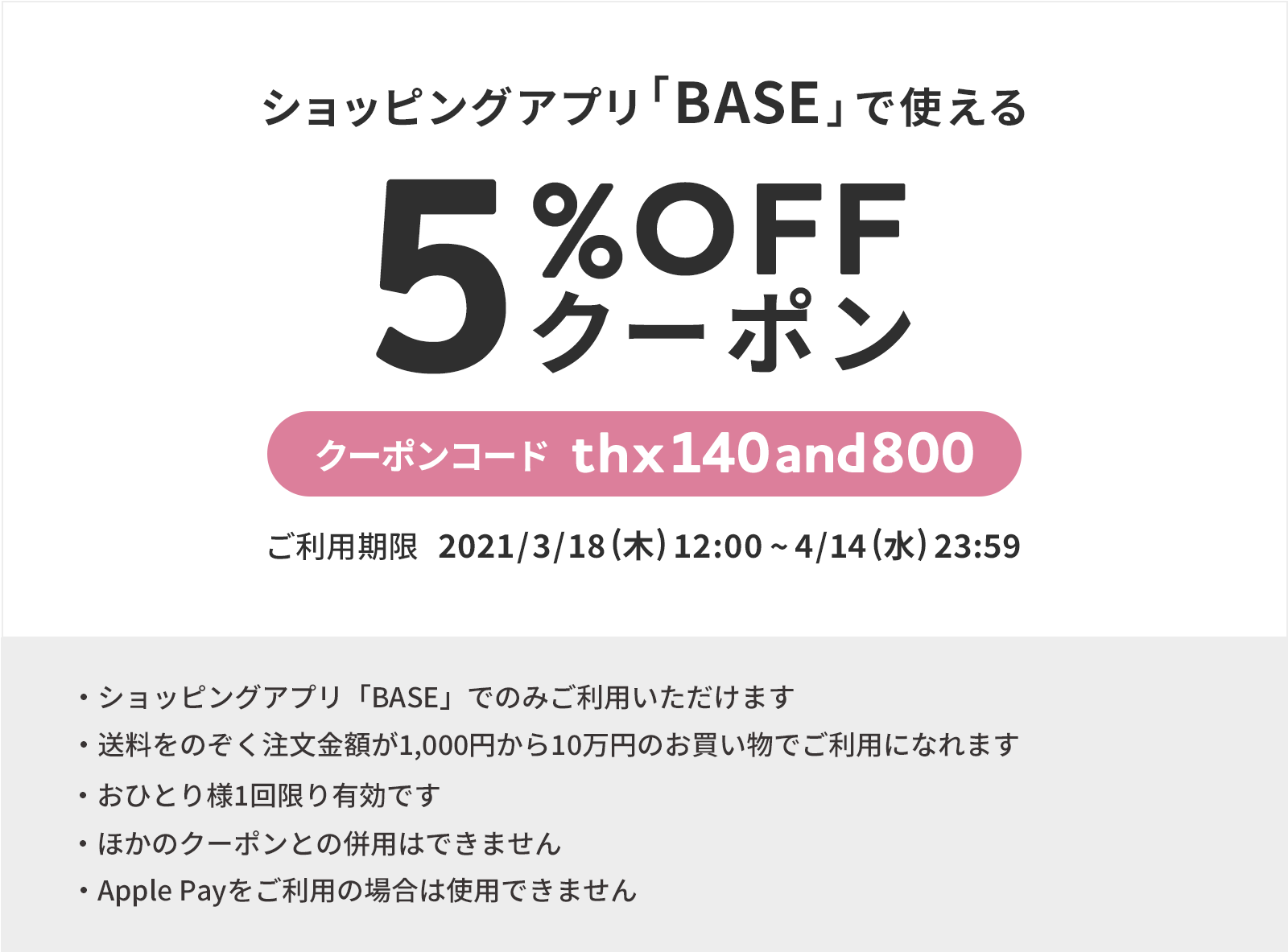 【3/18~4/14 期間限定!】
「BASE」140万店舗突破&800万アプリダウンロードを記念して、5%OFFクーポンをプレゼント。
商品購入画面でクーポンコード≪thx140and800≫を入力して下さい。
ぜひ郡上本染 渡辺染物店でのお買い物をお楽しみください。