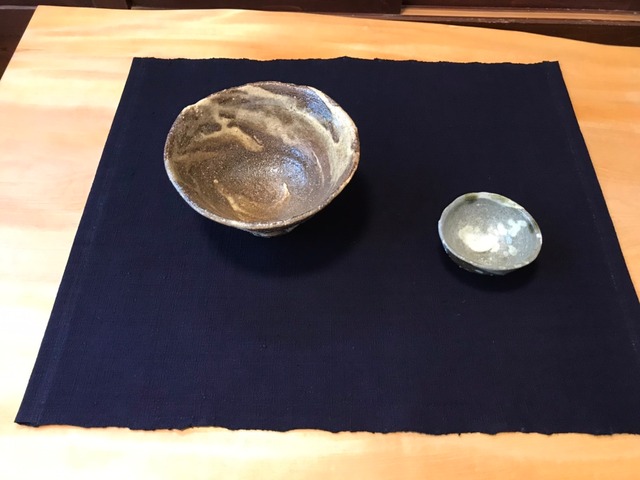 手織りテーブルセンター(紺無地)
*This item will be delivered on 5/30(Mon) at the earliest.
Shipping fee is not included. More information.
天然藍で濃紺に染め上げたテーブルセンター。
手織りの中厚手の木綿を、濃紺に染めました。
紺無地なので、和洋どちらにも合います。
器の敷物に、またテーブルの中央に置いていただくなど、色々ご利用いただけます。

【サイズ】横:約44cm×縦:約37cm
【素材】 手織り綿100%
Add to Like via app
正藍染製品のお取り扱い注意点について
※藍染は藍色が糸や生地の内部に浸透して染まっているのではなく表面を覆っている状態です。そのために頻繁に摩擦する部分や、水濡れしている部分を摩擦しますと色落ちいたしますのでご注意ください。ご利用いただくうちに徐々に色落ちしにくくなります。
※革製品などに摩擦で色移りすると、付着した色を落とせませんのでご注意ください。特に淡色の革製品との摩擦はお避けください。
※色を落ち着かせるため、お買い上げいただいた時から2~3年は洗濯は出来るだけ避けてください。洗濯は手洗いをおすすめします。蛍光剤・漂白剤の混じらない中性洗剤で軽く押し洗いしてください。(蛍光剤・漂白剤入りの合成洗剤を使用すると、ムラなどの原因になる場合がありますので、ご使用にならないでください。)部分的に擦ると色ムラになりますのでご注意ください。洗い終わりましたら、形を整えて陰干しにしてください。脱水機・乾燥機はお避けください。
※クリーニングはお避け下さい。どうしてもクリーニングに出される場合、高価な製品ですので、製品の過度な色落ちが無いか等、藍染製品を責任を持ってクリーニングできるかどうかを業者にご相談ください。クリーニングによる製品の色落ち、風合いが損なわれた、傷ついたなどのトラブルは弊店では責任を負いかねます。タンブラー乾燥はお避けください。
※ 保管は必ず箪笥や箱等の湿気の無い暗所に保管してください。長期間ご使用にならな
い場合は一年に一度程度かぜを通してください。長時間同じ位置に直射日光が当たったり、長期間同じ位置に蛍光 灯の光が当たると、その部分が日焼けすることがございますのでご注意ください。
Hand-woven table center (plain indigo blue)
This is a table center dyed in dark blue with natural indigo.
Hand-woven medium-thick cotton.
As it is plain indigo blue, you can use it as a rug for plates or place it in the center of the table.

[Size] Width: Approx. 44 cm x Length: Approx. 37 cm
[Material] 100% hand-woven cotton
[Precautions for handling indigo dyed products]
* Indigo dye will transfer color by rubbing. As you continue to use it, the color will not fade easily. Also, the color fades little by little as you use it.
* Please note that the attached color cannot be removed if the color of leather is transferred due to friction. In particular, do not rub brightly colored leather products.
* Hand washing is recommended. Gently wash with a neutral detergent that does not contain fluorescent or bleaching agents. (Do not use synthetic detergents containing fluorescent agents or bleaching agents as this may cause unevenness.)
Please note that partial rubbing will cause color unevenness.
After washing, shape and dry in the shade.
Avoid dehydrators and dryers.
We are not responsible for troubles such as discoloration of the product, deterioration of texture, damage due to cleaning.
* Please store in a dark place with low humidity such as chest of drawers and boxes. Please note that you may get sunburn if you get direct sunlight or fluorescent light for a long time.
Shipping method / fee

Payment method