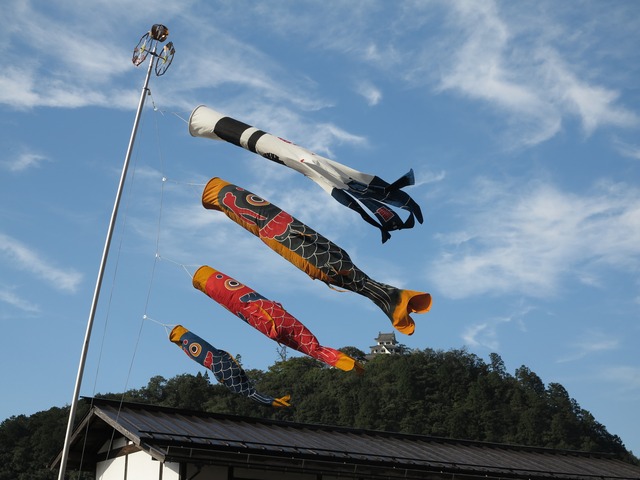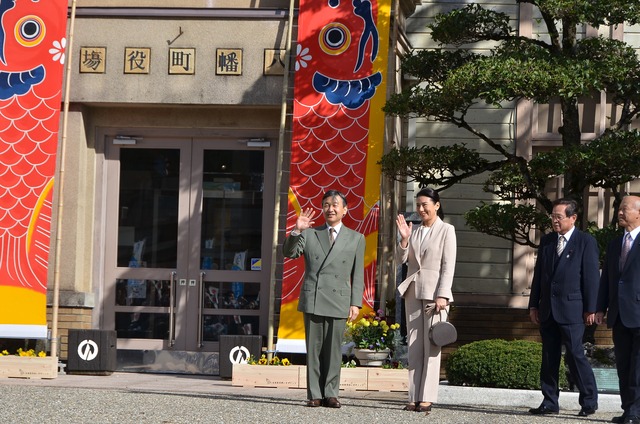 鯉のぼり120cmセット(ベランダ用ミニサイズ)
¥130,000 tax included
the last one
*This item will be delivered on 7/11(Mon) at the earliest.
Shipping fee is not included. More information.
郡上踊りと長良川で知られる奥美濃の小京都、郡上八幡は、まだ昔ながらの手仕事文化が生きている町でもあります。
全国的にも珍しい手染めの伝統と技術を、現在、郡上本染 渡辺染物店の十五代目が継承し、一つ一つ丁寧に製作しています。
厳冬の大寒に、長良川の支流、清流吉田川で、鯉のぼりの寒ざらしを行う様子は、冬の風物詩。

ご紹介の、郡上本染鯉のぼりは、色鮮やかで「力強き野生の鯉」と、多くのファンを持つ名作です。

お子様の初節句をご親族の皆様で祝い、
皐月の空に泳ぐ、色彩豊かな鯉のぼりを、お子様に楽しんでいただけると思います。

一番小さいミニ鯉のぼり(60cm)は今年から、青、赤、緑の3色から選択いただけます。
オプションで指定して下さい。

この鯉のぼりセットは、ベランダやお庭で手軽に扱えるサイズです。
室内で吊るして飾る事も出来るミニサイズです。

スタンドはオプションで別売りですので、状況に応じてお求めください。

(A)「どこでもスタンド」は、標準に付属の伸縮可能なポールを差し込むだけですので、ベランダでご利用いただく時に便利です。

(B)「庭園スタンド」は、ネジで固定する長さ3.7mの固定ポールで、より強力ですので、庭園でご利用いただく時に便利です。
※現在、庭園スタンドは品薄となっております。

吹流し 1.2m 真鯉 1.2m 緋鯉 1.0m 青鯉 0.6m
矢車 ポール(0.6~2.3m伸縮タイプ)付属金具類
※庭園用スタンドの場合、ポールは3.7mの固定ポールになります。

【サイズ】ベランダサイズ
【素材】 綿100%、付属品:金属、樹脂
Add to Like via app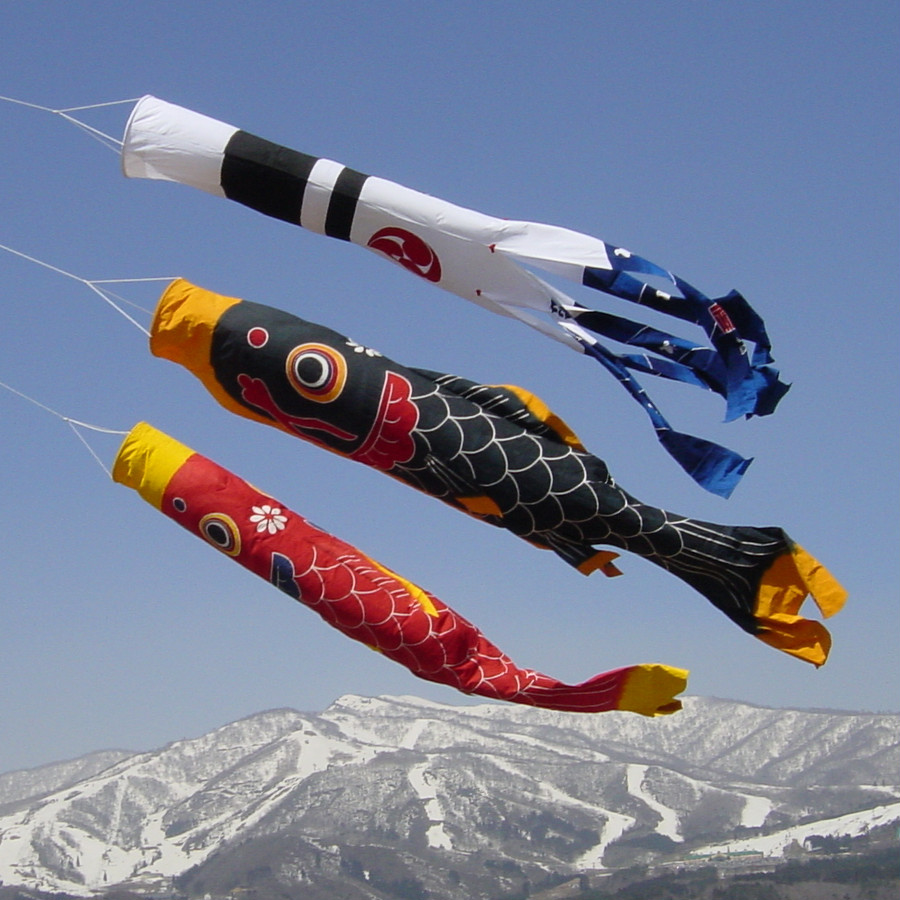 奥美濃の山々を背景に、雄大に泳ぐ郡上鯉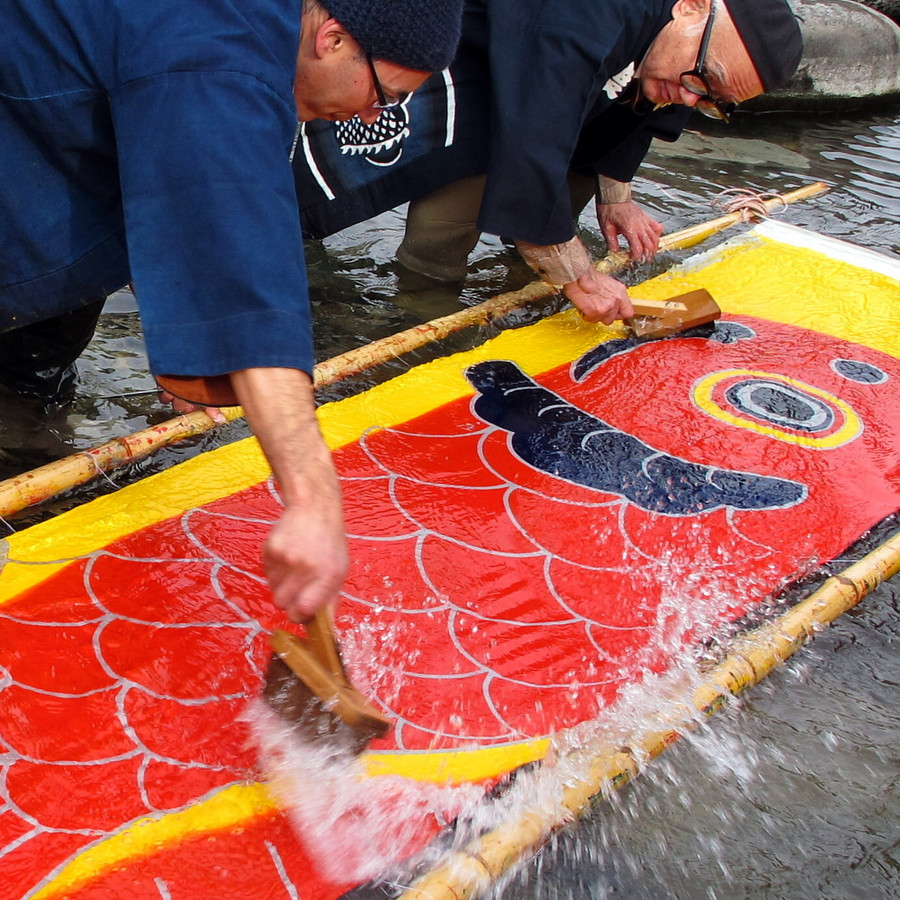 身を切るような冷水で寒ざらしする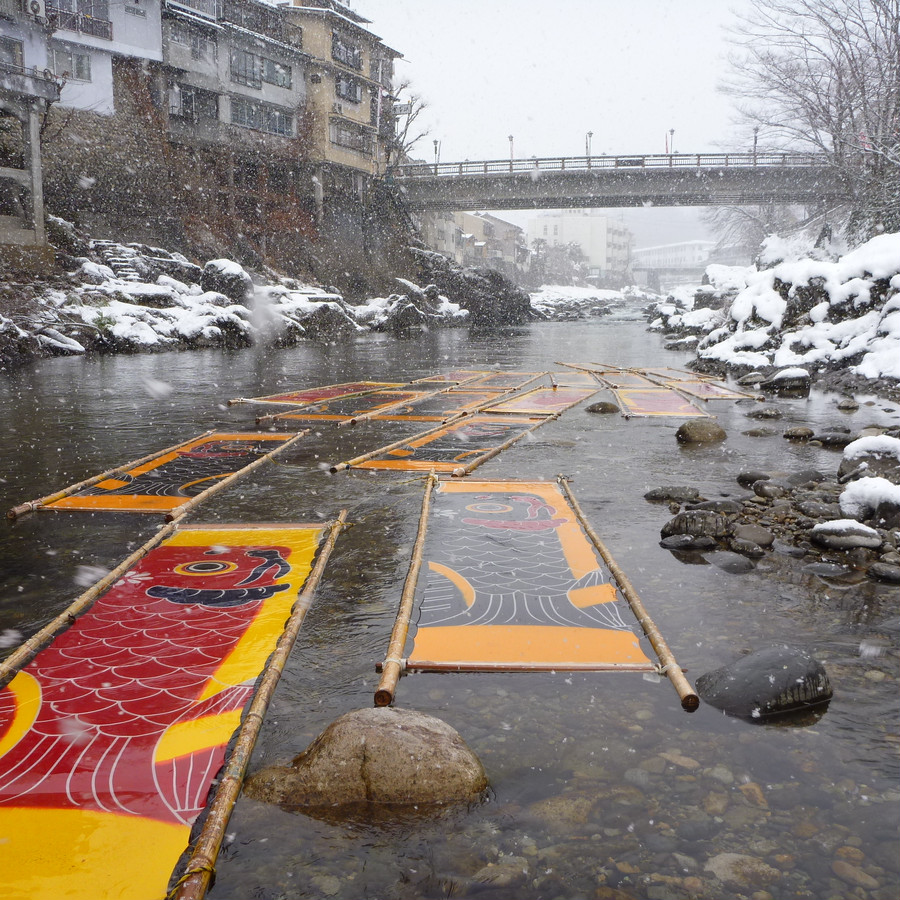 冬の大寒に、郡上八幡の清流に泳ぐ鯉のぼり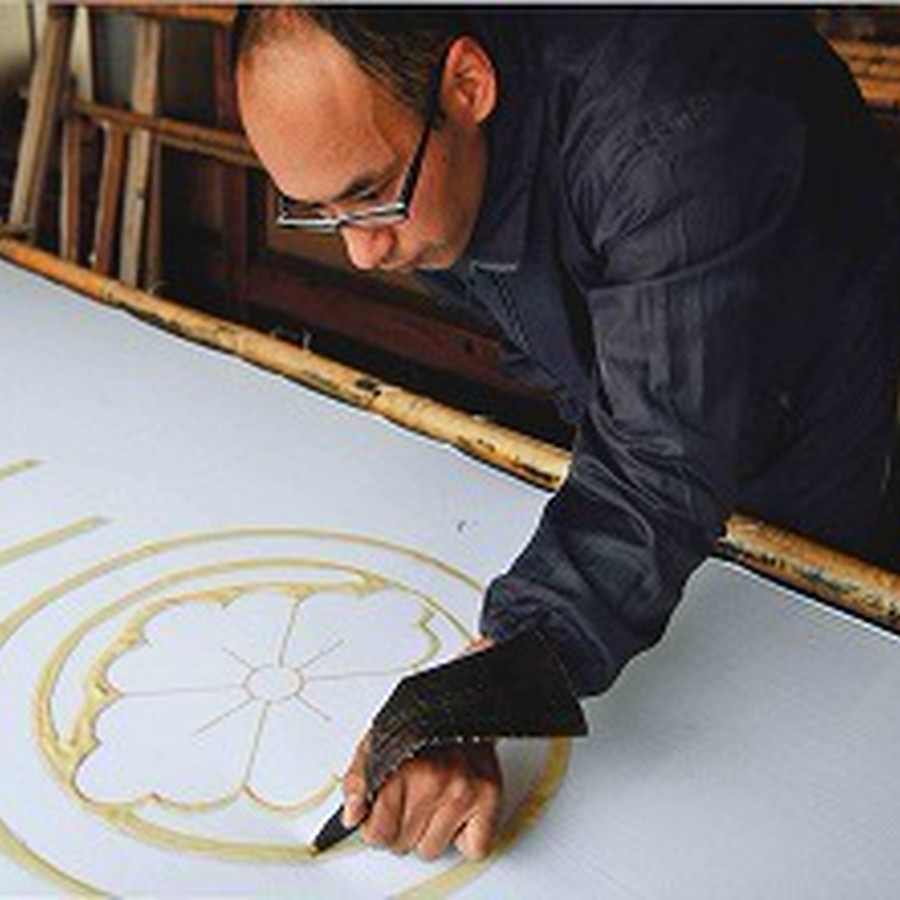 鯉の目や鱗などの輪郭は餅糊で手描きする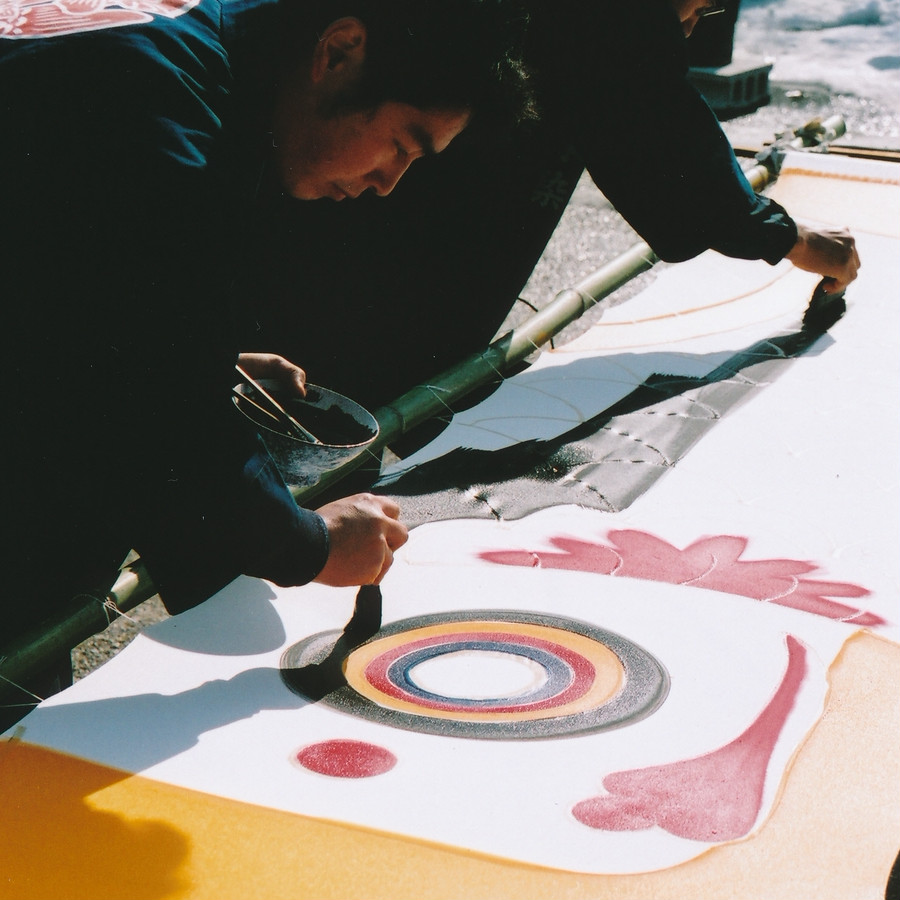 顔料を色鮮やかに着色する
鯉のぼりセットお取扱いのご注意点
<掲揚のご注意点>
強風の時は、鯉のぼりやポールを傷めるもとになりますので、掲揚はおやめ下さい。庭に掲揚する場合、上空に電線や木など障害物が無いことを確かめた上で、揚げて下さい。電線の近くでは決して揚げないで下さい。吹流しや鯉、ポールが電線に接触しますと感電の恐れがあります。ポールはしっかりと地面に埋めたりベランダの手摺りに固定して、強風が吹いても倒れないように支えを充分にして下さい。
<取扱方法>
雨の日や雨の降りそうな日には揚げないで下さい。長くお使い頂く為に、夜は吹流しと鯉を降ろして室内に取り込んで下さい。夜露等で汚れが染みついて鯉のぼりを傷めることもありますのでご注意下さい。
<洗濯方法>
洗濯はしない事をおすすめします。洗濯は汚れのひどい場合に行ってください。中性洗剤に暫くつけた後、汚れのひどい所だけ手ですすぎ、よく乾燥させて下さい。擦るとその部分だけ色がうすくなったり、毛羽立ったりしますのでご注意下さい。一度うすくなったり、毛羽立った状態を修復する事はできません。洗濯機での洗濯は生地を傷めるもとになりますので、行わないで下さい。
<保管方法>
雨に濡れたり、湿気を含んだ鯉のぼりを充分に乾燥させずにビニール袋に入れるのは鯉のぼりを傷めたり、カビの原因となります。一度カビが生えると、カビの色は落ちません。必ずよく乾かして、綺麗に畳んで箱に入れ、湿気の少ないところに保管して下さい。
Carp streamer home set
Gujo Hachiman, a small Kyoto known for Gujo Odori and the clear stream of the Yoshida River, is still a town where old-fashioned handicraft culture is still alive. It is a dye shop that keeps the tradition and technique of natural indigo dyeing, which is rare in Japan. It's a store that has continued for 430 years.
This carp streamer, which uses "Kachin dyeing," one of Gujohonzome's techniques, is very colorful and has many fans.

The smallest mini carp streamer (60 cm) can be selected from three colors: blue, red, and green.
Please specify as an option.

It is a set that can be easily handled on the veranda or in the garden.
The stand is sold separately, so please purchase depending on the situation. (Stand for carp streamer home set)

Windsock 1.2m Black carp 1.2m Red carp 1.0m Mini carp 0.6m (choose from blue, red, green)
Windmill, pole (2.3m)

[Material] 100% cotton, accessories: metal, resin
Precautions for handling Koinobori set
<Notes when frying>
In strong winds, it may damage the streamers and poles, so please refrain from hoisting. When displaying in the garden, make sure that there are no obstacles such as electric wires or trees in the sky before frying. Never fry near electric wires. If a windsock, carp, or pole contacts the electric wire, you may receive an electric shock. Make sure that the pole is firmly buried in the ground.
<Handling method>
Do not fry on a rainy day or when it may rain. Please store the carp streamer set indoors at night.
<Washing method>
Do not wash normally. Please do the washing when it is extremely dirty. After soaking it in a mild detergent for a short time, wash it lightly by hand only on the heavily soiled area. Then dry it well. Please note that the color will fade due to friction. Do not wash in a washing machine.
<Storage method>
Storing the carp streamer while it is damp will damage the carp streamer and cause mold. Be sure to dry it well, fold it up cleanly, put it in a box, and store it in a place with low humidity.
Shipping method / fee

Payment method