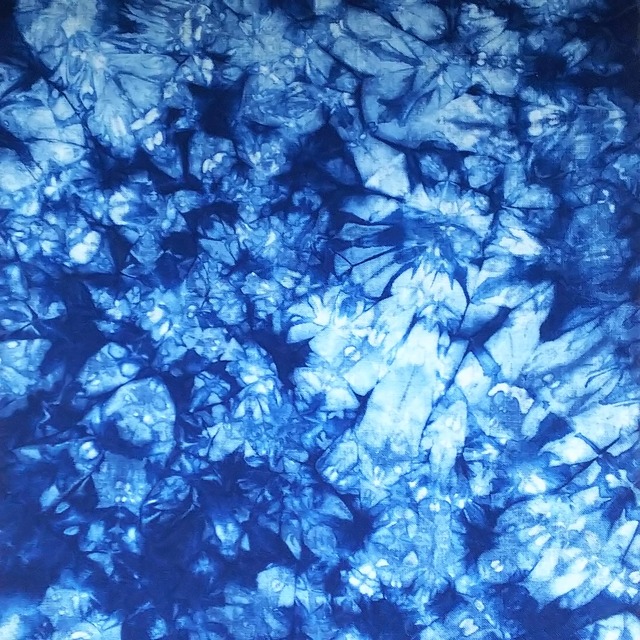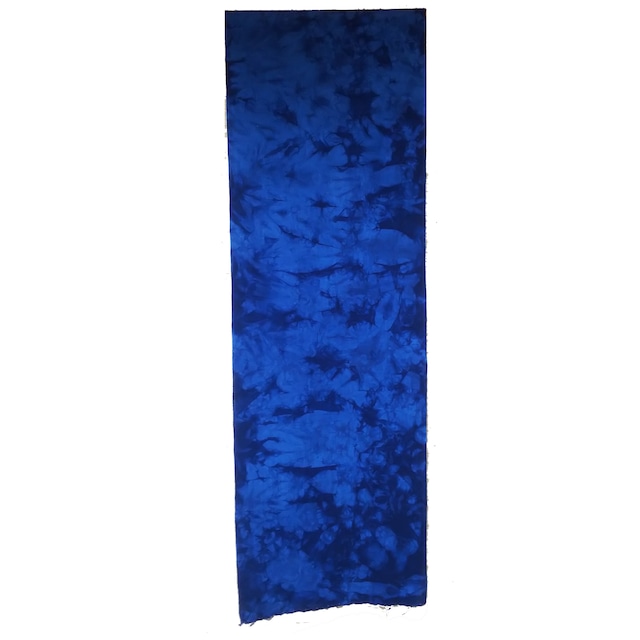 正藍染 美濃和紙手ぬぐい
岐阜県特産の美濃和紙と郡上本染のコラボ手拭いです。

この手ぬぐいは、美濃和紙を用いた生地を、発酵させた天然藍に何度も漬け込み、清流で水洗いし、天日干しする、昔ながらの染め方で製作しております。

生地は、美濃和紙を細くスリットし、撚りを掛けることにより細く強い紙糸に仕上がり、その紙糸を横糸に使用してできています。和紙の手ぬぐいは綿の手ぬぐいと比較して約1.2倍の吸水力があります。
木綿の手拭いより、さらりとした肌触りです。

生地には藍の色素や草木の成分が沈着しており、古来から薬効効果があると言われております。
銀河をイメージするような絞り染めにしました。濃淡が立体的に感じます。一枚一枚手染めで、柄の入り方はその時の偶然の産物で、世界に二つとして存在しません。唯一の商品です。

サイズ:約33cm×90cm
素材:分類外繊維(和紙)58%、綿42%
Add to Like via app
商品についてのご注意点
※この商品は、1点1点手染めで、柄の入り方はそれぞれ全て違い、一つとして同じものはございません。写真は、柄の概要、雰囲気としてとらえてください。実際の商品は、写真の雰囲気に似た、別の商品になります。
配送についてのご注意点
※レターパックもしくはレターパックプラスをご指定下さい。
※配達日や時間帯の指定がご希望の場合は、ヤマト宅急便をご指定下さい。
※この商品には箱が付属しておりません。ギフトなどで化粧箱がご入用の場合は、「贈答用箱」を必要な個数、一緒にお求めください。
正藍染製品(ショール・衣類)のお取り扱い注意点について
※藍染は染料の特性上擦れ合うと他のものに色移りする場合があります。藍色が糸や生地の内部に浸透して染まっているのではなく表面を覆っている状態です。そのために頻繁に摩擦する部分や、湿気を帯びたり、水濡れしている部分を摩擦しますと色落ちいたしますのでご注意ください。ご着用に際しましては下着・衣類などへの色移りにはご注意ください。何度かご利用いただくうちに徐々に色落ちしにくくなります。
※革製品などに摩擦で色移りすると、付着した色を落とせませんのでご注意ください。特に淡色の革製品との摩擦はお避けください。
※洗濯は手洗いをおすすめします。他の衣類と分けて洗濯してください。
蛍光剤・漂白剤の混じらない中性洗剤で軽く押し洗いしてください。(蛍光剤・漂白剤入りの合成洗剤を使用すると、ムラなどの原因になる場合がありますので、ご使用にならないでください。)
部分的に擦ると色ムラになりますのでご注意ください。
洗い終わりましたら、形を整えて陰干しにしてください。
乾燥機はお避けください。
※クリーニングはお避け下さい。どうしてもクリーニングに出される場合、高価な製品ですので、製品の過度な色落ちが無いか等、藍染製品を責任を持ってクリーニングできるかどうかを業者にご相談ください。クリーニングによる製品の色落ち、風合いが損なわれた、傷ついたなどのトラブルは弊店では責任を負いかねます。
タンブラー乾燥はお避けください。
※長時間同じ位置に直射日光が当たったり、長期間同じ位置に蛍光灯の光が当たると、その部分が日焼けすることがございますのでご注意ください。長期間ご使用にならない場合は箪笥や箱等の湿気の無い暗所に保管し、時々かぜを通してください。

Natural indigo dye Washcloth
This is a collaboration washclooth of Mino Japanese paper, which is a specialty of Gifu prefecture, and Gujohonsome.

The fabric is made by finely slitting Mino Japanese paper and twisting it to make a thin and strong paper thread, which is used as the weft thread. Mino Japanese paper towels have about 1.2 times the water absorption capacity of cotton towels.

It is a natural indigo towel.
Dipped in fermented natural indigo many times. Produced in the traditional way of dyeing.
You can feel the dark and light colors in three dimensions.
I dyed each one by hand. The patterns are all different.
I use cotton with a soft touch.
It can also be used for mask fabrics.

Size: Approximately 36 cm x 90 cm
Material: Japanese paper 58%, cotton 42%
Notes about the product
*This item is hand dyed one by one, and the pattern is different.
The actual product will be another product that resembles the atmosphere in the photo.
[Precautions for handling indigo dyed products]
* Indigo dye will transfer color by rubbing. As you continue to use it, the color will not fade easily. Also, the color fades little by little as you use it.
* Please note that the attached color cannot be removed if the color of leather is transferred due to friction. In particular, do not rub brightly colored leather products.
* Please wash by hand. Please wash separately from other clothing. Please wash lightly with a neutral detergent that does not contain fluorescent or bleaching agents. If you use a detergent that contains fluorescent or bleaching agents, it will damage the fabric. Also, if you rub it partly, the color will drop only in that part. It may cause unevenness. After washing, shape it and shade it. Please avoid the dryer.
* When requesting laundry from a laundry company, please consult with the company in advance. We are not responsible for troubles such as discoloration of the product due to washing, loss of texture or damage.
* Please store in a dark place with low humidity such as chest of drawers and boxes. Please note that you may get sunburn if you get direct sunlight or fluorescent light for a long time.
Shipping method / fee

Payment method